Steam Show & Threshing Bee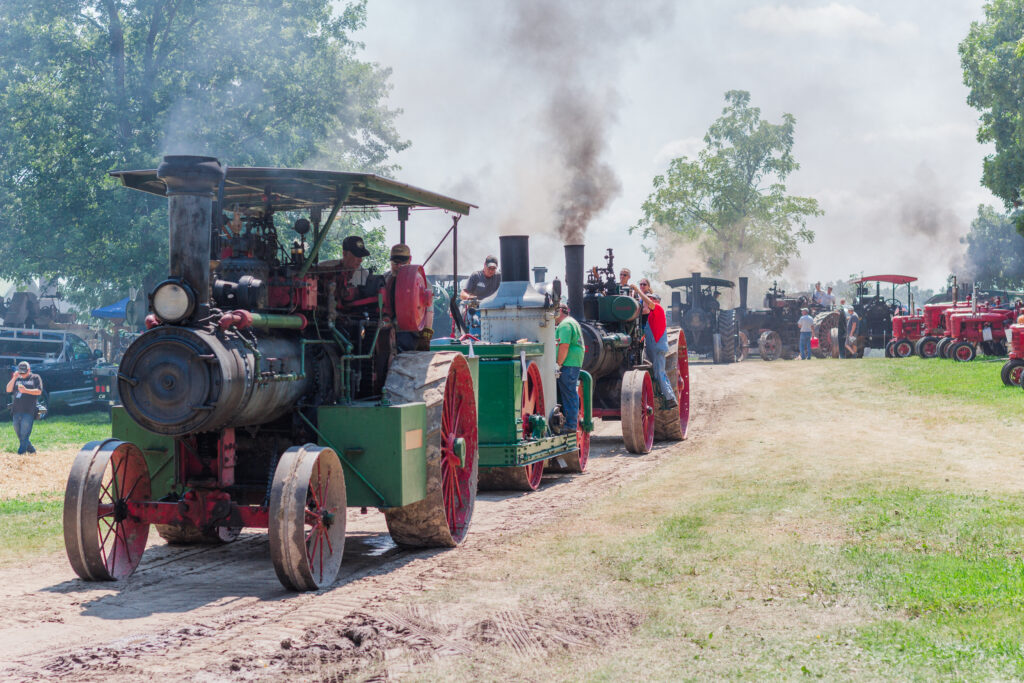 The next steam show is only...

Small Scale Steam Railroad & 4H Petting Zoo
Sawmill, Flour Mill, Baling Straw,
250 HP Corliss Steam Engine
Souvenirs, Good Food,
and Flea Market
Parade Daily at 1:30 PM
Watch the Steam Engines and Gas Tractors as they make their way around the Showgrounds!
Small Scale Railroad & FFA Petting Zoo...
...are just a couple of things for the kids to do at the Sycamore Steam Show!
Sawmill, Flour Mill, Baling Straw, Plowing & the 250 HP Corliss Steam Engine
Watch Steam Engines and Gas Tractors as they do work just as they would have over 100 years ago.
Souvenirs, Good Food, and Flea Market Treasures
You'll find all sorts of delicious food to eat and uncover treasures galore at our Flea Market!
Keep scrolling to read more about the show, or select one of the buttons below to head straight to that section!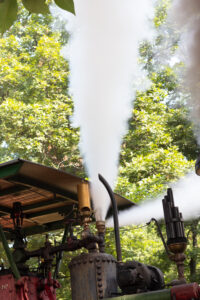 Children under 12 are free!
Thursday Senior Citizens are $5
Tickets may be purchased at the gate. 
Cash is accepted.
Show admission is included in Club Membership. Find out more here.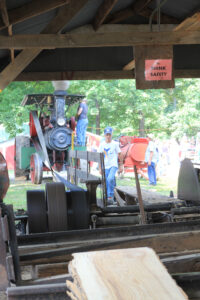 Taylor Marshall Farm
27707 Lukens Road
Sycamore, IL. 61078
50  Miles West of Chicago, 1/2 mile North of Route 64 on Route 23, 4 miles East on Plank Road, or-
9 mi. West on Route 47 on Plank Road, or-
1-88 to Peace Road (DeKalb), Follow North on Peace Road past Route 64 to Route 23, where it becomes Plank Road, then East 4 miles on Plank Road
The Sycamore Steam Show has so many amazing attractions that you really have to just come see it for yourself! Below we've featured a few of the attractions that you'll see when you visit the Sycamore Steam Show! Click each box to find out more!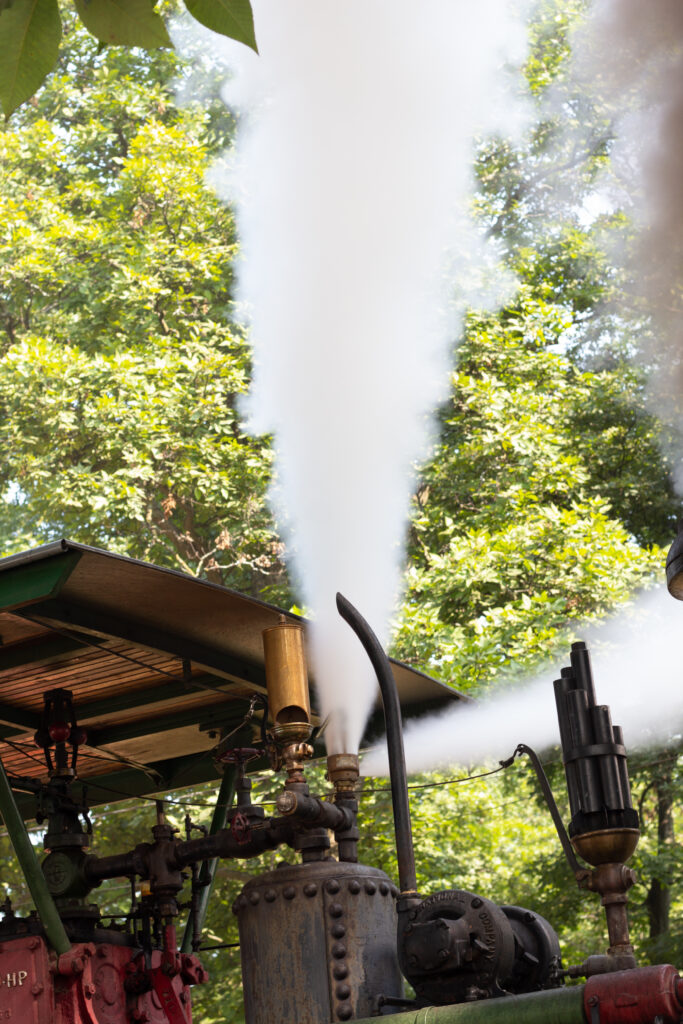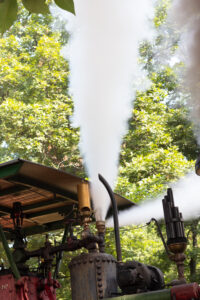 Morning Activities
Show opens at 7:00 am. Buildings open at 8:30.
9:00 am- National Anthem and Flag Raising
9:15 am to Noon- Daily Activities Begin!
Daily Activities
Sawmill and Shingle Mill in Operation
Flink fan in operation testing Horsepower
Silo Filling- Corn Shelling- Wheat Grinding
Display of Steam and Gas Engines, Gas tractors, antique cars, and other antique power equipment
Field Plowing
Prairie State Scale Railroad
Flea Market
Music and Food
Afternoon Activities
Noon- Lunch Whistle!
1:30- Parade
2:30- Daily Activities Resume
5:00 pm- Show Closes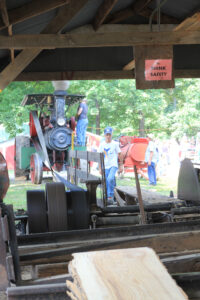 Frequently Asked Questions
Most frequent questions and answers
Can I bring my Golf Cart?
No. Golf carts and other off road vehicles are not allowed. 

Single person handicapped wheelchairs and scooters are welcomed!
No. Pets are not allowed on the showgrounds. 
Why are the Steam Engines driving backward through the parade?
All the engines and tractors are assigned a number that identifies who and what they are to the person announcing them. The myth is, that someone posted the number on the wrong side fo their engine, and they simply drove backwards for the speaker to still be able to read it.

The truth is it is just kinda fun.
Why do Steam Engines drive so slowly?
Well, for one, they are extremely heavy. They cannot go any faster than 2.5 miles per hour or they will literally fall apart. These machines were also designed to take on strenuous amounts of work and therefore they were not designed for speed.
Why do all the engines whistle at noon?
They are making sure you know it is time for lunch!
Historically, the farmers were spread throughout the fields, and the loud engine whistle could call them all back for lunch.
What does two short whistles mean?
Two short whistles which means the belt is about to start, or engineers will also use this at the show to alert the people around them that they are about to move the engine.