The Kewanee Stationary Boiler powers the Vilter engine and other Stationary equipment at the show grounds.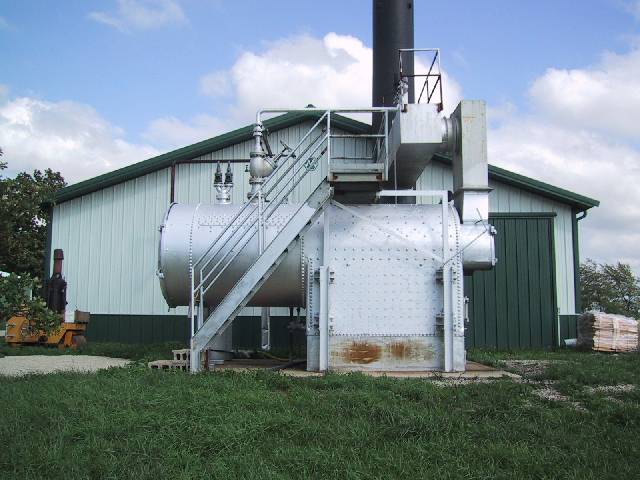 Specifications
Manufacturer: Kewanee Boiler Company, Kewanee, Illinois.
Year Built: 1952
Built for: Casad Army Engineer's Depot at New Haven, Indiana
Type: Fire Tube, HRT (Horizontal Return Tube), Locomotive type firebox boiler.
Firing method: Coal, by hand
Length overall: 17′ 7 1/2″
Barrel
Diameter: 78″
Longitudinal Seam: Quadruple riveted butt joint with a design efficiency of 94.1%.
Plate thickness: .625 When built. Thinnest spot found by ultrasonic inspection in 1999 was .610.
Tubes
Direct fire tubes: 101, 6′ 11 3/8″ Long
Return tubes: 88 15′ 91/2″ Long
Tube Diameter: 3″
Total heating surface: 1786 square feet.
Theoretical Burst Pressure: 635 P.S.I. With a safety factor of 5 this boiler when new had a
maximum allowable working pressure of 125 P.S.I.
Current Working Pressure: The State of Illinois allows us 120 P.S.I.
Total Weight: Approximately 31,000 pounds.