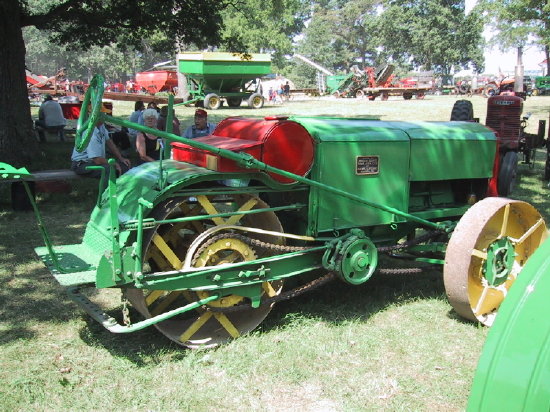 The John Deere Joe Dain tractor has a long and complicated history. Experimental work on this tractor dates back to 1914. The inventor was Joseph Dain Sr. There were a few experimental machines put out each year until 1918 when 100 were built. The entire 100 machines were sold to the John Deere Company as they wanted to get into the tractor business. These machines were built in a factory located on 10th Street in East Moline, Illinois. This is where the John Deere Harvester Works began its existence. Elmer McCormick, who later became Chief Engineer at Deere's Waterloo Plant, supervised the manufacturing.
John Deere had narrowed their field down to two options: Go with the four cylinder, all-wheel-drive Dain design and make it themselves or purchase the Waterloo Gasoline Engine Company of Waterloo, Iowa and use the already proven two cylinder Waterloo Boy Tractor. Deere chose the two cylinder Waterloo Boy partly because it believed the two cylinder design was simple and less expensive and that the Waterloo boy had already established itself as a successful tractor. The Dain Tractor project was dropped upon purchase of the Waterloo plant. The tractor originally owned by Mr. Williams is the thirty-fourth one built. There are only two complete examples of this tractor known to exist.  Club member Dave Sniader exhibits his Waterloo Boy Tractor at the show each year giving everyone a rare opportunity to look at these historically significant tractors together.
In 1974 this fine and rare specimen was donated to the Northern Illinois Steam Power Club. We are very grateful to the Williams family.

Specifications of the John Deere AWD Dain Tractor #34Year Produced: 1918
Number Produced: 100
Engine: McVicker Engineering vertical four-cylinder
Fuel type: Gasoline
Fuel Capacity: 21 Gallons
Bore & Stroke: 4-1/2 X 6
Rated RPM: 800
Carburetor: Stromberg M2, 1-1/4″, Brass
Air Cleaner: Bennett
Magneto: K-W Type model "T"
Drive: Three wheel chain drive
Ratings
Drawbar: 12 horsepower
Belt: 24 horsepower
Speed, (Forward and Reverse)
High: 2.62 mph
Low: 2 mph
Length: 12′-6″
Height to Radiator: 57 inches
Width at front: 76 inches
Font Wheel: two steel, 36 X 8 inches
Rear Wheel: one steel, 40 X 20 inches
Weight: 4600 pounds
Price: $1200