Originally written by Dan Kocher for the 50th anniversary book in 2006. It has been updated to reflect current dates.

Mr. Rumley was the former President of the M. Rumely Company of LaPorte, Indiana, a company started by his father and uncle in 1853. Control of the M. Rumely company had been passed on to his nephew, Edward. William Rumely sold his interest in the company and in April of 1913 started the Illinois Thresher Company. The new company employed another former M. Rumely Company employee, P. Bradley McIntyre, who served as Secretary and Treasurer.. Later, George E. Dutton, a local investor, joined the company as Vice President. In addition to steam traction engines, the company produced thresher-hullers, stackers, and separators.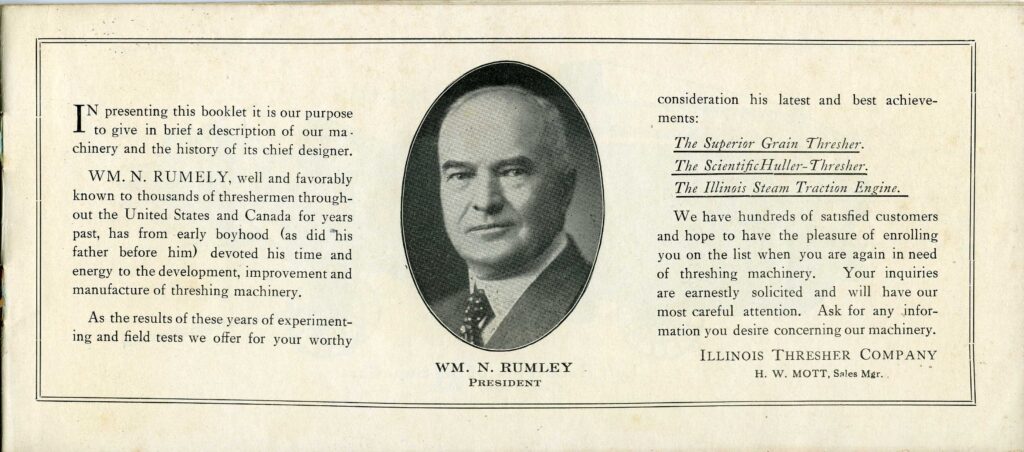 The steam engine product line featured three steam traction engines rated at 20, 22, or 25 horsepower. Early designs used a lap-seam boiler design with the company switching to the safer butt-strap seam for its later models. The boilers were larger than those used on comparable engines of the day and precision Corliss engine fram with steam chest was employed.
Illinois engines were better designed to pull heavy loads than other engines of that era. A solid axle rode under the boiler and was held in place by massive brackets that allowed the engine to be used to pull plows and other implement loads without damage.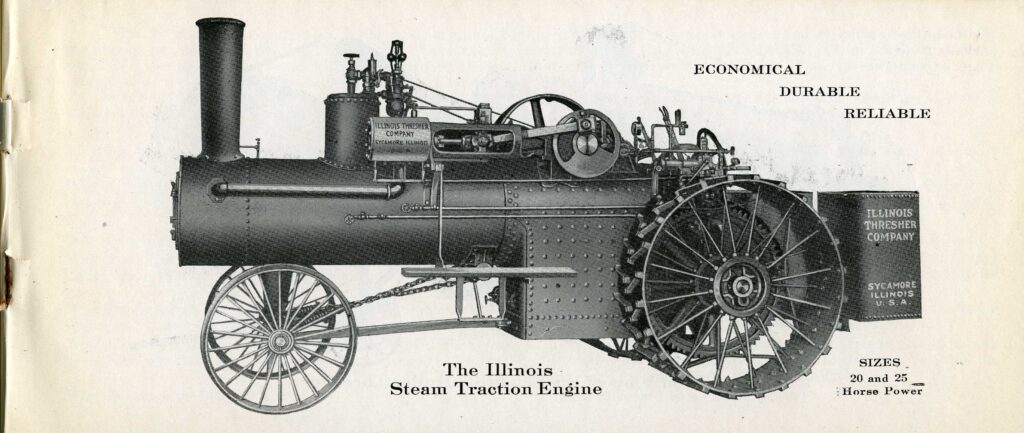 Although business grew, the financial strains leading to the great depression took its toll. The plant was never able to achieve the economies of scale needed to compete with the other engine manufacturers of the period. Increased competition from the new gas and kerosene tractors began to take its toll as well.
The plan shut down in mid to late 1920's having produced only 63 engines. Of that total, only six are known to have survived.
The Northern Illinois Steam Power Club is the most recent owner of Illinois Thresher Company engine number 110. The club purchased the engine in 2003 from Carlisle Mathison in LaCrosse, WI. The engine was the 10th engine to be constructed at the Sycamore factory, and was completed in 1916.
Club members have been working to bring the engine back to life. Repair and restoration of the boiler was completed in 2006.